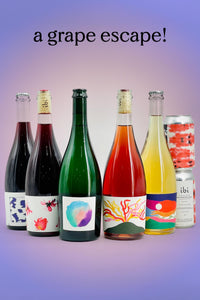 A grape escape
Making wine feels like a superpower. Drinking it is a close second.
Joyful and wild, these wines are spontaneously fermented and made with minimal sulphur, just like our ciders. Share them with someone nice, or keep them for yourself.
This pack includes 5 bottles and 2 of our Vidal cans. Read all about them:
Luna: Sauvignon Blanc fermented on the skins of Sauv Blanc, Riesling, Chardonnay and Hyslop crabapples. This light orange wine was aged in clay amphora for 3 months before bottling. Grape and crabapple tannins are woven together with the natural salinity of the clay. 10.6% ABV | 750mL
Apollo: Zweigelt rosé harvested in 2020. Violets meet Swedish berries in the aroma. Malic acidity lends a crispness, while subtle honeyed notes add width. The fruit is punchy raspberry mineral water meets plump honeydew, with a dash of dark plum flesh. It drinks like our favourite French rosés. 10% ABV | 750mL

Marisol: Botrytis affected Cabernet Franc from 2021. Soft and silken, delicate and powerful. Up front the aroma is all tourtière and raisins. It has notes of strawberries, bell peppers and rosemary bark. Fine chalky tannins keep us coming back for more.  11.7% ABV | 750mL
Lantana: Seyval Blanc fermented 3 ways, and bottled as a pét nat. We split this juice into 3 portions: free run, fermented on skins and in oak. Then we blended them back together and bottled it, letting fermentation finish in glass for those beautiful fine bubbles. Lantana is baked brioche and melon balls in a salty breeze. 12% ABV | 750mL
Joplin: A sparkling red from Maréchal Foch, Joplin is Lambrusco's not-so-distant cousin. Bright Granny Smith-like acidity, with an undercurrent of blueberries and brambles. Joplin is a fresh and friendly sipper. 8.9% ABV | 750mL
Skin Contact Vidal (you get 2 cans): A blend of Vidal fermented on skins, and nectarine cider. Vidal naturally has a peachy/honey vibe, and the added nectarine cider pushes that over the edge. Fresh and friendly with bright acidity, and notes of ripe stone fruit. 2 x 375mL | 10.5% ABV
Each bottle is 750mL, gluten free, zero residual sugar and vegan.
---