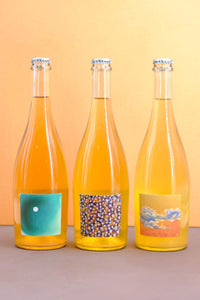 Co-ferments
When you can't decide what fruit you want, just have them all. This pack includes 3 bottles that are blends of apples and grapes, with a few other Ontario fruits thrown in for good measure.
Co-ferments includes 1 each of:
Field Guide: Our newest collaboration with our pals the Grape Witches. Field Guide is a blend of amphora fermented cider, pears, golden plums and Gewürztraminer. It's high acid with a mix of rose petals, glacial meltwater and plum leaves in the aroma. Saline clay underpins everything in a delightful way. Chill it well before opening. 7.5% ABV
Cosmos: A blend of Northern Spy and Gewürztraminer. Spy stretches out the silken quality of Gewürztraminer into the ether. The weighty-ness of the wine is buttressed by the rich cider in way that feels like fresh honeycomb over dandelions and windfallen apples in the rain. 7.8% ABV

Aster: Another pairing of Gewürtz, but with 3 different crabapples: Hyslop, Dolgo and Wickson. These crabapples have significantly more acid than Northern Spy, making this a delightful contrast to Cosmos right off the bat. Dolgo adds it's unique crabapple aroma, while Hyslop brings tannin and funk. Wickson adds spice and a final shot of acidity. Aster is complex and textured—like an orange wine made with apple skin contact instead of grapes. 6.9% ABV
Each bottle is 750mL, gluten free and vegan with zero added sugar.
---