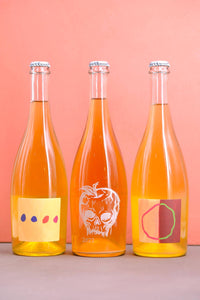 Rare Apples
One for the nerds: this pack includes 3 bottles that are a celebration of wild fermented apples and nothing else.
Rare Apples includes 1 each of:
Ellis Bitter: A bittersweet English apple that originated 200 years ago, Ellis Bitter is a new discovery for us. Fresh, funky and tropical, Ellis Bitter drinks like a ripe pineapple stomped into an orchard floor at the end of harvest. Small, fine tannins lengthen this cider, lifting more delicate notes of bell peppers, peaches crushed between oak slabs, and dried birch leaves. 7.2% ABV
Bittersweet Freedom: Made exclusively from Hyslop crabapples, a variety that originated around Boston in the 1850s. This is my personal favourite cider that we make. We know of just 3 trees, which only give us a full crop every other year making it that much rarer. Hyslop crabapples are notable for their chalky tannins, tangerine nectar notes, with a bit of funk from our wild microbes. 8.1% ABV

Northern Spy: Our single varietal Northern Spy cider has become a fleeting annual treat. Usually only around for a couple months in the summer, it's weighty and drinks almost like a wine. Expect soft notes of golden raisins, dried mango and white flowers. It feels like French cidre, without any sweetness. 7% ABV
Each bottle is 750mL, gluten free and vegan with zero added sugar.
---