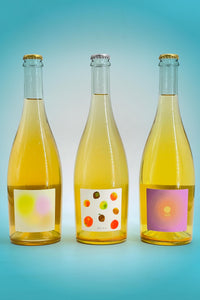 Rare Fruits
One for the nerds: this pack includes 3 bottles that are a celebration of wild fermented apples and nothing else.
Rare Fruits includes 1 each of:
Barrel Aged Time and Place: Time and Place is the truest expression of the native microflora on our fruit and in our cidery. We aged a single barrel of our best tank from the 2020 harvest for a year, and let it bottle ferment another 7 months before release. Expect sweet oak, savoury Dolgo apple skins and fine, silky bubbles. 6.5% ABV
Solera: A 2 year blend of foraged fruit, Solera is made from wild Ontario apples that were handpicked in both 2020 and 2021. We let the 2020 portion age in oak for a year and blended it with still-fermenting juice from 2021, letting it finish fermentation in bottle as a pét nat. 6.9% ABV

Bumper: Our hand disgorged, pét nat, collaboration cider with Not Far From The Tree in Toronto. Made from apples foraged from forgotten Toronto trees, Bumper drinks like fine French cidre. It smells like papaya, apple skins, guava and orchard leaves in all the best ways.
Bumper starts with delightfully small, Champagne-like bubbles and finishes with a hint of farmyard funk, the signature of our native microflora. 6.9% ABV
Each bottle is 750mL, gluten free and vegan with zero added sugar.
---