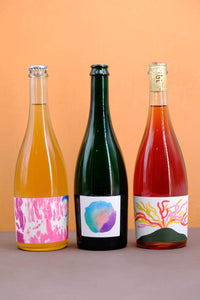 grippy grapes
Joyful and wild, these wines are spontaneously fermented and made with minimal sulphur, just like our ciders. Share them with someone nice, or keep them for yourself.
Grippy Grapes includes 1 each of:
Apollo: Zweigelt rosé harvested in 2020. Violets meet Swedish berries in the aroma. Malic acidity lends a crispness, while subtle honeyed notes add width. The fruit is punchy raspberry mineral water meets plump honeydew, with a dash of dark plum flesh. It drinks like our favourite French rosés. 10% ABV | 750mL
Luna: Sauvignon Blanc fermented on the skins of Sauv Blanc, Riesling, Chardonnay and Hyslop crabapples. This light orange wine was aged in clay amphora for 3 months before bottling. Grape and crabapple tannins are woven together with the natural salinity of the clay. 10.6% ABV | 750mL
Elvi: A sparkling blend of orange Riesling and Sauvignon Blanc, we aged Elvi on Dolgo crabapple skins for a beautifully delicate tannin addition. Elvi is sparkling and the aroma is like a tropical fruit salad of guava blossoms, mangosteen, lychee and walnuts. 11% ABV | 750mL
Each bottle is 750mL, gluten free and vegan with zero added sugar.
---