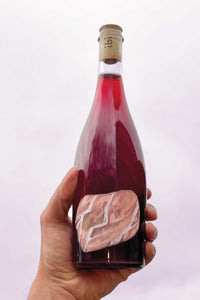 Grotto
Grotto is a weird wine. Visually, and aromatically.
It's a white wine, dressed in red. Grotto feels like a floral white. 70% skin fermented Muscat Ottonel and 30% De Chaunac. We aged it in amphora made in Italy from limestone rich clay.
What's it like? It drinks like a cool climate Syrah that vacationed at the royal botanical gardens and just...decided to live there for a bit. Amongst the esoteric flowers. It's quite floral.

Grotto is strange at first, but really comes into its own after the bottle is open for about 2 hours. It's like acacia flowers and violets blooming in a rock garden. After some time, soft mulberry notes arise.
I recommend chilling it lightly and decanting for a bit. Or just leave the bottle open for a spell. A living wine, Grotto continues to change. Open when you want to nerd out on something a little challenging.
We've never made anything like it.
73 cases produced.
7.6% ABV | 750mL
Ingredients: Muscat Ottonel, De Chaunac. Gluten free.
Wild ferment, zero residual sugar, vegan.
---